Join us this afternoon for Messy Church when the theme is Easter.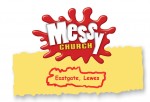 There are crafts and activities and fun in the hall from 3pm. Then about 4- 4.15 pm there will be a short celebration in the church.
After that everyone will have tea (cakes, sandwiches, biscuits, nibbles) together in the hall.