Eastgate church runs activities for parents, carers, children and young people.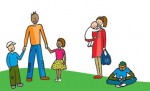 Kingfishers is our group for the under-threes and their parents
The Childminders' and Nannies' Lunch Club is for nannies and child minders, as well as the children in their care
These activities are mostly staffed by volunteers from the church. We want to create a safe, loving environment for carers and children, and to offer support to the families in our care. We hope that all we do has a Christian feel to it.
Little children were brought to Jesus for him to place his hands on them and pray for them. But the disciples rebuked those who brought them. Jesus said:"Let the little children come to me, and do not hinder them, for the kingdom of heaven belongs to such as these." (Matthew 19:13-14 – from the Bible)
We are members of the Preschool Learning Alliance and we operate a Safe to Grow child protection policy.
To find out more, to book your place, or put your name on a waiting list, please contact the church