Walk this Way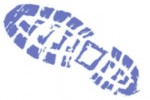 Wherever you are on your Christian journey, you are welcome to join us every Thursday morning from 10.15 for coffee, lively Bible study, discussion, prayer.  If you can please stay on afterwards and join us for lunch.  Questions and diversions welcome.
We have a new Study Series starting Thursday 2nd May ( 10.15am –  12pm) and we'll be studying David, ( a man after God's own heart).  We'll be exploring the life and times of this extraordinary man as recorded in 1 & 2 Samuel in the Bible.  Shepherd, giant-killer, poet and musician, brave warrior, great leader and the greatest of Israel's kings, he was also flawed and a failure at times.
Come and join us.
Want more info? Ask Sharon or contact the church. Check the calendar to see if there are any Thursday mornings when the group will not be meeting – particularly over holiday times.